Welcome to Waggin Smiles
Waggin Smiles is for pet owners of both dogs and cats who do not want their pets put under general anesthesia for teeth cleaning. Absolutely NO anesthesia is used before or during our pet dental cleaning procedure.
Waggin Smiles' amazing and experienced veterinarians and technician's goal is to provide the highest quality alternative in dental cleaning for your pet's teeth. Our customer satisfaction, combined with the numerous referrals from veterinarians outside of Waggin Smiles' practice; provide you with the assurance that Waggin Smiles does indeed provide a superior service to you and your pet in the Northern California San Francisco Bay area.
In compliance with California state law: Our technicians work under the supervision of California Veterinary Medical Board licensed veterinarians at every one of our clinics. Waggin Smiles has Premise Permits issued by the California Veterinary Medical Board for each one of our clinic locations.
https://www.vmb.ca.gov/
California Veterinary Medical Board Veterinarian Licenses:15641 19084 5009
California Veterinary Medical Board Premise Permits: Waggin Smiles Mobil Unit Santa Rosa, 7092 - Woodlands Pet Food & Treats, Novato 7922 - Woodlands Pet Food & Treats, Mill Valley 7920 - Woodlands Pet Food & Treats, San Rafael 791 - Bow Wow Meow Menlo Park 7924 -Bow Wow Meow San Francisco 7926 - George, San Francisco - 7923 - Paradise Pet, Rohnert Park 7913 - Almost Home 7930 - Biscuits Dog Boutique, San Jose 7927 - Paws and Claws, Oakland 7915 Wag Hotels Santa Clara 37713 - Wag Hotels Oakland 37084 - Wag Hotels Redwood City 37085 - Wag Hotels San Francisco 7919
Due the Covid19 pandemic we have experienced both clinic operations suspension and delays. We are doing our best to reschedule all appointments. If you pet's oral health care is an urgent matter, we recommend that you contact your local veterinarian to setup an anesthesia cleaning.

Your understanding and patience are greatly appreciated during this time. We look forward to seeing all of you soon.
All our dental clinics are run with the pet's best interest in mind. We are always gentle, caring, and work with each animal as a unique individual. We do our best to ensure that they are comfortable and go away from their dental cleanings having had a positive experience. Many of the most commonly asked questions will be answered for you here at Facts and Questions page.
We are going into our 11th year of business under the name Waggin Smiles, Inc., and we want to say a special "Thank You". We could not have done this without the support of our amazing veterinarins whom helped establish this business, and for their knowledge to continue to guide us. Thank you, to all of Waggin Smiles' staff members for their gentle care, and for their love of animals. Thank you, to our loyal and wonderful pet owners, and to our great hosting clinics business owners. And most of all, a very sweet thank you to all of the wonderful dogs and cats we see on a daily bases, whom make every day of work enjoyable and rewarding. "Success is liking yourself, liking what you do, and liking how you do it." – Maya Angelou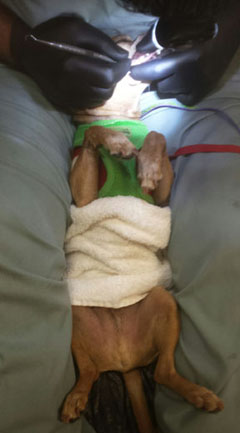 PATIENT ARRIVAL POLICY:
For your protection, and that of others, please bring your pet into our hosting clinic locations in a collar, or halter, and on a leash, or in a pet carrier. Thank you.

Powered by Appointment-Plus


Waggin Smiles, Inc.
Servicing the Northern California San Francisco Bay Area
www.wagginsmiles.com
Email: info@wagginsmiles.com
Office: 707-637-0841
Mobile: 707-360-5493
Fax: 888-274-2052